Having a big, rugged trunk filled with all your technical gear transported safely across the continent would be nice when you travel with your team. But it's expensive.
So what do a small club, with limited funds, do when it's analyst needs to have a bigger screen with him on the road, than the one that's already on his laptop?
Look no further. Roccat Tusko are bags for transporting LED screens. It's mostly kids attending LAN parties who uses them, but they are just as handy for a analyst on the road.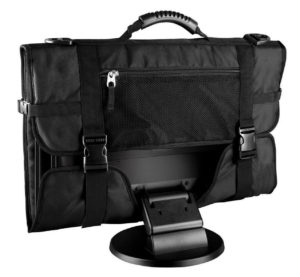 And they're not too expensive. I bought my 24″ version (They come in two sizes – 15-19″ and 20-24″) for $55. A bargain compared to the big trunks to keep your screen safe.
Of course it's nothing like those big, padded trunks since you can safely check them in on an airplane but the Tusko can be brought as carry-on-luggage on some airlines and be checked in as fragile goods at the rest. and the screen is protected by the padded case. Still a nice solution to the problem.
Check out the bags here: http://www.roccat.org/Products/Gaming-Accessories/ROCCAT-Tusko/
Disclaimer: This is not an ad for Roccat and I haven't been paid to write anything. It's just my thoughts about a bag I recently bought.